Dates Below Are Year 2002
Note: Dates will be added as the events are scheduled
February 7-9, 2001 - SSA, Soaring Society of America, Convention and Air Sports Expo at Ontario Convention Center, Ontario, California. This will probably be an exceptionally large convention -- come to sunny California! Consider combining it with a wave camp experience. The SHA event will probably be a breakfast on Friday. February 8th with Tom Riley as the speaker, speaking on his American Spirit project. The VSA event will probably be lunch on the same day with speakers and a business meeting. See SSA Website, http://www.ssa.org.
April 3-8, 2002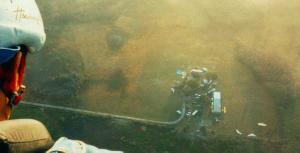 Second Annual April Florida Skyout at Wallaby Ranch near Orlando, Florida. Contact Steve Arndt. which overlaps the first weekend of Sun-N-Fun (go to both). for More detailed information
http://www.wallaby.com ... Student view during first lesson. See larger image at the Wallaby Ranch website.
May 13-19, 2002
Midwest Vintage/Classic Sailplane Regatta. Lawrenceville/Vincennes Airport, Lawrenceville, Illinois. Contact Dave Schuur, 16705 E. 300th Ave., Flat Rock, IL 62427 618-584-3328 dschuurREMOVE@frtci.net, or Bud Brown 618-943-2076.
May 25 - 27, 2002
Vintage Sailplane Association Western Regatta, Mountain Valley Airport, Tehachapi, California. Contact Jeff Byard (805-461-0488). SHAers are always welcome at this event -- come join in for some early season flying!
June 15, 2002 at Bishop, California
Map: http://www.bishopvisitor.com/area_map.htm
National Landmark of Soaring No. 12, Sierra Wave Project
Sponsored by National Soaring Museum
Landmark Dedication at Bishop Airport 1 pm; two towplanes available
Dinner: Bishop 7 pm (make reservations with ryanbmRemove@alum.mit.edu)

For further information, contact Sylvia Colton 760.872.1573
... check this:
http://www.caohwy.com/b/bih.htm
http://www.bishopvisitor.com/index.htm
http://www.greeleynet.com/~rfwhelan/monster.html
August 2 -4, 2002
SHA Eastern Workshop at the National Soaring Museum, Elmira, New York. Come join in the fun and see the expansion at the National Soaring Museum. Contact Steve Arndt.
for More detailed information regarding this 2002 event

Revised agenda Travel Information
August 27 through September 2, 2002
A special series of event in Tehachapi! More info forthcoming. Mark your calendar now!

For Details:

Tenative Schedule

Registration Form

Tues Aug 27 thru Aug 29 -- OSTIV Sailplane Development Panel meeting chaired by Dr. Michael Rehmet. Individuals are invited to observe the proceedings of this international committee.
Friday Aug 30 through Monday Sept 2nd - Ultralight Sailplane Fly-in. Coordinator: Dan Armstrong. Plan to bring your ultralight/light/regular sailpane and join us.
Friday night Aug 30 through Monday Sept 2nd -- 22nd Annual SHA Western Workshop. Fly-in continues. Soaring is available all days except Tuesdays at Skylark North at Mountain Valley Airport. Come and spend the week at a terrific soaring site.
Sunday Sept 1st -- SHA Western Workshop Banquet and Barnaby Lecture featuring Gerhard Waibel as the Barnaby Lecturer, lecturing on "The Sailplanes of 2050". Sponsored by the National Soaring Museum in collaboration with the SHA and SSgA Region 12.
No plans for 2003 yet.